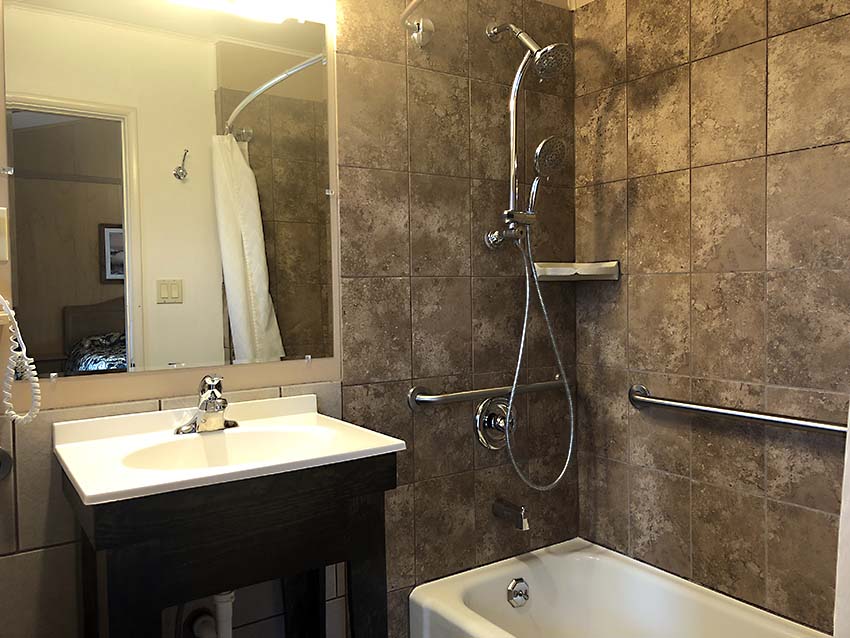 At Meadowcliff lodge, we provide rooms for those who travel with mobility limitations.  We'll always do our utmost to provide access, so please don't hesitate to call our office before you book a room, directly with us, or with an online booking entity, so we can learn of your specific needs and facilitate your stay to the extent of our abilities.
Our Exterior Entry Doors are 36-inches wide, our Interior Bathroom Doors are 33-inches wide and our Patio Doors open to 44-inches with a concrete ramp that assures ease of access.
There will be plenty of room to navigate inside our ADA rooms that measure 17-feet wide, 13.25-feet deep.  Our spacious bathrooms, measuring 6-feet by 5.67-feet, not including the tub-space, and have assist handles inside the shower and along the toilet.
We look forward to being of service during your stay and thank you for choosing Meadowcliff Lodge during your trip.