Impressive Granite Cliffs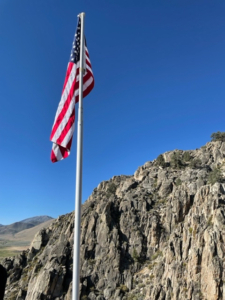 The impressive Granite Cliffs are called "Centennial Bluff", standing majestically tall on the west side of Highway 395, here in Coleville California. They are the site of a historical event that occurred on July 4th, 1876. A traditional Independence Day celebration was carried out wit a picnic of homemade treats, challenging games, and crackling fireworks. The highlight of the event that would make history, was then three men, Wood Larsen, John Connell, and Mr. Cole carried a locust pole to the summit, anchored it firmly in a crevice and raised the American Flag.
Brief History of Meadowcliff Lodge and RV Park.
The original Meadowcliff Lodge ten room building was built in 1959 by Mr. and Mrs. Jones. They opened for business in November of that year with the first guest paying $5 for their stay. The second ten room motel building was opened for business in 1998.
It wasn't until 2008 when the first section of the RV Park opened for business. The RV Park has had several expansions and updates since the time. The current owners are planning on additional expansion, hiking trails and direct access to fishing.
Fishing the West Walker River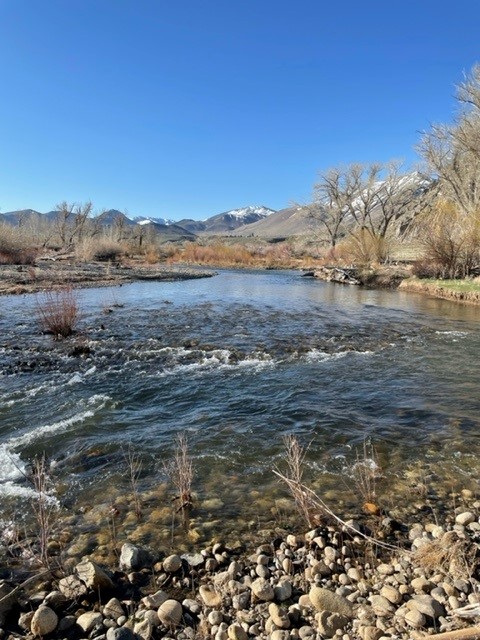 With the addition of acreage and direct access to the West Walker River from our campground, I thought I'd share a brief background on this tributary. The West Walker River is a 95 mile long tributary of the Walker River that flows through eastern California and western Nevada. The River rises from the snowmelt in the Sierras, north of Yosemite National Park. It flows north along the Sweetwater Mountains before entering Antelope Valley. It then flows north into Douglas County, Nevada. Once the River reaches Nevada, it turns in a northeastern direction and joins the East Walker River to form the Walker River mainstem, about 7 miles south of Yerington.
Portions of The West Walker River is stocked with rainbow, brown, and brook trout from late April through July, or September depending on water flow. The Lahontan Cutthroat are native to the stream. Much of the River's water is used for agricultural irrigation and flows through private land.